30+ Best Places to Propose in Colorado
Finding the perfect location is one of the biggest components to pulling off an unforgettable proposal! Check out this post if you're looking for an epic proposal location in Colorado!
Updated: February 28, 2023
My top 5 favorite proposal spots in Colorado
After photographing dozens of proposals across the state of Colorado, here are my top 5 favorite places to propose.
If you're looking to propose in Colorado, you'll definitely want to check these out, as well as the others on this list!
Where to propose in Denver
Denver Botanic Gardens
The Denver Botanic Gardens can make a beautiful backdrop for your proposal. With 23 acres of gardens, you should definitely be able to find a quiet location to pop the question.
They also have a number of special events throughout the year, which can make for an easy excuse to get your significant other to go with you.
Wynkoop Bridge
If you're looking for a city vibe for your proposal, the Wynkoop Bridge near downtown Denver is a great spot! There are several nearby restaurants so you can grab drinks and a bite to eat either before or afterwards!
Red Rocks Amphitheater and Park
The Red Rocks Amphitheater and Park is a classic Denver location and has beautiful views for your Denver proposal.
There are lots of trails at this park or you can find a totally accessible location to pop the big question!
Larimer Square
Similar to Wynkoop Bridge, Larimer Square has an urban vibe and is a great spot to propose due to all the nearby restaurants and shops.
Wynkoop Bridge and Larimer Square are actually only a few blocks apart in Downtown Denver, so you could choose one of these spots to propose and then get some additional photos in the other spot!
Mount Falcon
Mount Falcon is a park just outside of the Denver metro area that has great views of the foothills and lots of trails to hike. There are two sides to the park, the East side and the West side, which each have different types of views.
From the East side, you get views of Red Rocks Park and Amphitheater, while the West side offers great mountain views like the one below!
Places to propose in Colorado Springs
Pikes Peak
If you want epic Colorado mountain views for your proposal, Pikes Peak could be a great choice! If you want a great adventure, you could hike to the top. You can also drive to the top of Pikes Peak if that suits you better!
Garden of the Gods
Garden of the Gods is another iconic Colorado location. There are lots of places within the park that will give you some beautiful views as the backdrop for your proposal.
This spot is very popular, so I always recommend going early in the day if you want some privacy for your big moment.
Paint Mines
The Paint Mines near Colorado Springs is definitely one of the most unique places on this list.
With unique rock formations in other worldly colors, this location will make for a very cool proposal story and photos!
The Broadmoor Hotel
Although you have to be a guest of the hotel for this location, if you're looking for a great proposal option where you can head straight to dinner after, consider the bridge over the lakes at the Broadmoor Hotel in Colorado Springs, followed by a romantic dinner at the Penrose Room.
Pikes Peak Recreation Area
In addition to the summit of Pikes Peak mentioned above, the Pikes Peak recreation area is larger and encompasses the area surround the road that you drive up to the top of Pikes Peak. It includes several lakes with views of Pikes Peak, forested areas, and more.
For these locations, you'll want to be very mindful of the hours of operation and potential closures, weather related and otherwise.
Best places to propose in Boulder, CO
Lost Gulch overlook
Lost Gulch overlook has gorgeous mountain views accessible from right next to the parking lot which is off of Flagstaff road in Boulder, Colorado.
This location has some of the best sunrises and sunsets. However, sunset at this location gets very crowded, so I definitely recommend visiting in the morning!
Red Rocks Trail
Not to be confused with Red Rocks Park and Amphitheater near Denver, Red Rocks trail is a lesser known location in Boulder and requires a bit of a hike. But if you're willing to hike, you can have some beautiful red rock formations as the backdrop for your proposal.
Plus, this location is a lot less crowded than many other areas in Boulder.
Flagstaff Mountain Trails
Some of my favorite locations in Boulder are the many trails from Flagstaff Mountain Road. There are lots of options to choose from, varying in length and difficulty.
These locations offer similar views as Lost Gulch lookout but are usually much less crowded since a bit of hiking is required. These trails do still get very busy on the weekends though so I highly recommend weekdays!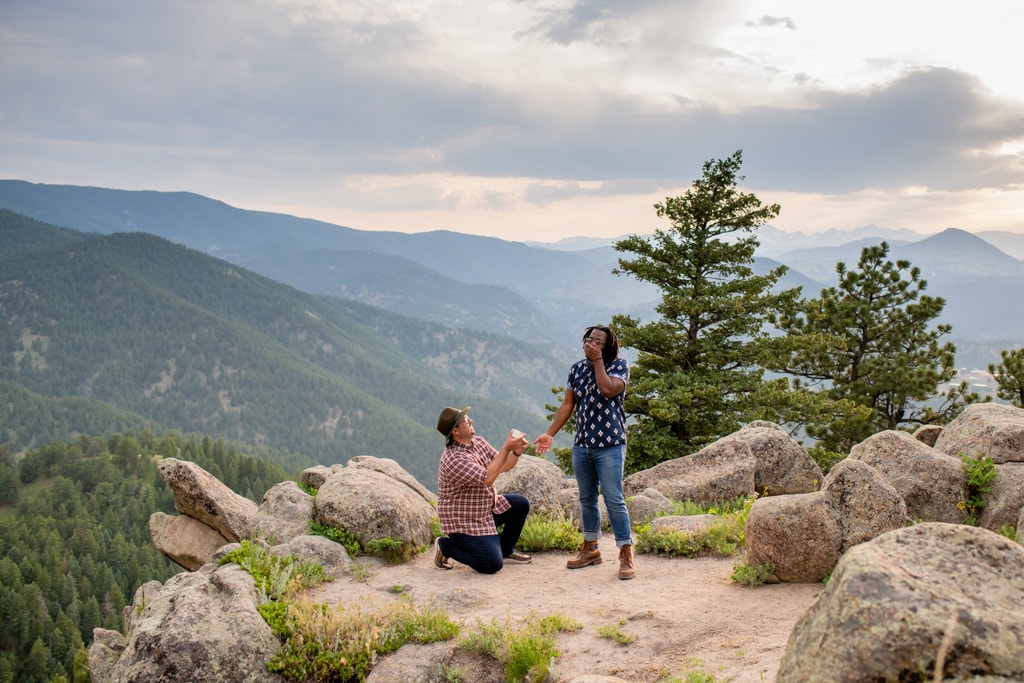 Chautauqua Park
Chautauqua Park has several trails and is a popular location due to its beautiful views of the Flatirons. This is another location that I recommend visiting at sunrise if possible due to the crowds.
Boulder Reservoir
If you're looking for an accessible lake with some mountain backdrops, Boulder Reservoir is a great spot for your proposal! I typically recommend the trail along the north shore.
Although you'll definitely see other people in this location, there are usually lots of quieter spots you can find for your big moment.
Best places to propose in Breckenridge, CO
Boreas Pass
Located near Breckenridge, Boreas Pass can make for a great scenic drive to accompany your proposal. This location is especially beautiful in the fall when the leaves are changing; however, it does get much more crowded during this time.
Officers Gulch
Officers Gulch is a fairly accessible lake between Breckenridge and Copper Mountain as only a very short, flat hike is needed to get to this location. Keep in mind though, that this spot is not accessible during the winter months.
Blue Lakes
If you're looking for a short hike to go with your proposal, definitely look into Blue Lakes near Breckenridge. This trail is only a mile albeit with some elevation gain, but there is a big payoff with alpine lake and mountain views!
It's important to note that the road to this location closes in the winter, making the hike to this location much, much longer. Even in the summer months this road requires high clearance and 4WD/AWD is recommended. I definitely recommend doing your homework on this location or hiring a professional to help!
Best Winter proposal locations in Colorado
Echo Lake
Echo Lake is one of my favorite locations for a proposal during the winter time, because of the beautiful mountain backdrop and how much less crowded it is in the winter. It tends to get very crowded in the summer though! Also, be aware of the winter driving conditions you will likely encounter on the way to this location during the winter months!
Sapphire Point
Sapphire Point is located in Dillon but is not a very far drive from Breckenridge, Colorado.
The Sapphire Point overlook is just a short walk from the parking lot. There are beautiful views of Lake Dillon with mountains in the background and in the winter time, it's just as magical!
Lake Dillon
In addition to Sapphire Point, there are several other great spots along Lake Dillon that can make for great areas to propose. I especially love this area in the winter months when the lake is frozen over.
Berthoud Pass near Winter Park, Colorado
Berthoud Pass is the mountain pass on the way from Denver to Winter Park, Colorado. There are some great mountain views from near the parking lot area. This area sees lots of snow in the winter, so if you're looking for a snowy winter location, this is a great option!
Horsetooth Reservoir
Horsetooth Reservoir is located in Fort Collins in northern Colorado. It sees a lot less snow than the other three locations above this one on the list, which might make it a great choice for you. Snow tends to melt quicker here, but this also means conditions will be a lot harder to predict.
Planning a winter proposal? Make sure to check out this post on winter proposals with can't-miss tips and inspiration!
Other proposal ideas in the mountains
Maroon Bells
Located near Aspen, the Maroon Bells are considered to be the most photographed spot in the state of Colorado. The Maroon Peak and North Maroon Peak tower over the valley below, which will give you a stunning backdrop for your proposal.
It's important to note that the road up to Maroon Bells is only open from mid May to mid October each year. You can find out more about visiting the Maroon Bells here.
Rocky Mountain National Park
Rocky Mountain National Park is one of the most visited spots in Colorado. There are tons of options for your proposal, including Bear Lake, Sprague Lake, Moraine Park, and many more!
Mount Evans
Besides Pikes Peak, Mount Evans is the only other 14er in Colorado where you can drive up to the summit. Although this location is very popular, it definitely offers incredible views.
Guanella Pass
Guanella Pass is another high mountain pass in Colorado with great views. Similar to Boreas Pass, Guanella Pass has beautiful fall foliage (however, it also gets busier at this time of year).
More ideas for where to propose in Colorado
Hanging Lake
A hike into Hanging Lake will make for a very unique and scenic proposal experience! This hike is a bit on the challenging side but well worth it.
Keep in mind that you do need a permit to visit this spot which requires making a reservation well in advance. Over the past few years, this location has been subject to somewhat frequent closures due to a wildfire that left the area subject to mudslides. You'll definitely need to do your homework on this spot but it can be worth it!
Also, although this spot is beautiful, I typically don't recommend it for photographed proposals, because the walking deck at the lake is narrow and doesn't enough leave room for a photographer to step back and photograph your proposal, much less have anywhere to hide. Just something to keep in mind if you do choose this location!
Great Sand Dunes National Park
Some people are surprised to learn that Colorado has sand dunes, but it does! Great Sand Dunes National Park is one of the more unique locations in the state and will make for a very adventurous proposal location!
Hiking/Adventure Proposal
If you and your partner are adventurous, consider a hike or other type of adventure for your proposal! Your proposal doesn't just have to be saying a view words and asking the big question. You can make it into an epic experience your partner will never forget.
Colorado has hundreds of trails with beautiful views to consider, or talk to a photographer who can help you find the perfect spot! As a proposal photographer, one of the things that I help clients with is location research and planning!
Airbnb or VRBO
Other fun idea to consider for your proposal would be to rent an Airbnb or VRBO with epic views. There are plenty of properties with great views throughout Colorado.
This can be a great idea for a private proposal. Or you might consider this as an alternative to proposing at home, since it is a more simple option but it will still feel special.
So…what's next?
Or check out some of my other proposal planning resources…
Hi I'm Kim, a Denver, Colorado based photographer specializing in epic proposal photography in Colorado and worldwide! Photographing couples on such a special day is a true honor for me. But I've made it my mission to take it one step further than that. When you work with me, you're getting more than just a photographer. I'm here to help you with all of the planning resources you need to plan the most amazing proposal ever! That includes everything from assistance with location planning, proposal ideas and logistics, plus lots more free resources. So you can forget the work, and focus on having fun!