The Ultimate Guide to Gay & Lesbian Proposals | Plus, Ideas & Inspiration
Looking for ideas, inspiration, and answers to all your questions about planning a gay proposal or lesbian proposal? This is the guide for you!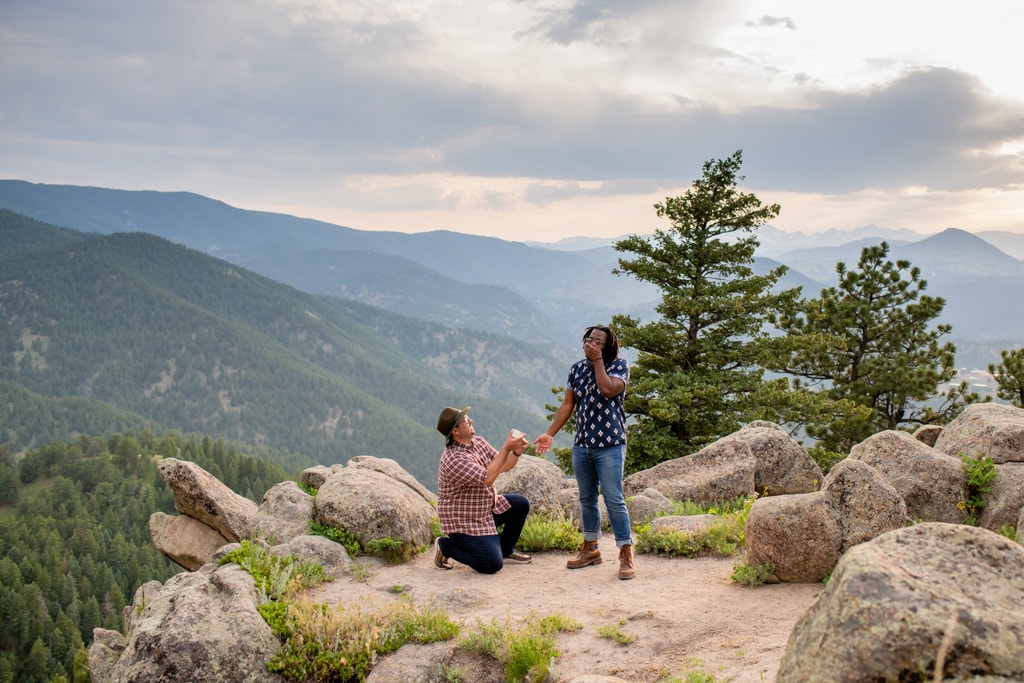 Updated: February 28, 2023
So you're thinking about planning a Gay or Lesbian Proposal…
For the most part an LGBTQ proposal is very similar to a heterosexual couples' proposal, but there are some differences that people have questions about sometimes.
This guide is not only here to help answer these questions about lesbian proposals and gay proposals, but to offer some ideas and inspiration of real life same sex engagements that I have been lucky enough to be a part of as a photographer and proposal guide in Colorado.
Some of these questions might be things like who proposes to whom? Can I or how do I plan a double proposal if we both want to propose? What about rings? Do we need two rings, or do we even need rings at all?
The beauty of gay and lesbian proposals is that they're untraditional by their very nature, so you can completely throw the rule book out and plan an engagement that is 100% true to who you are as a couple.
But first…a marriage proposal is more than just a yes or no question!
I think one thing that's important to address first is that typically these days, in most relationships (either gay or straight), deciding to get married often happens before the proposal itself.
It's not just a question that happens out of the blue. When you're deciding to spend the rest of your life with someone, most people discuss it with each other first.
Maybe it's just been some subtle comments here and there, or maybe you've had an in depth discussion with your partner.
But hopefully if you're preparing to pop the big question, you have a pretty good idea that your partner will say 'Yes!' when you ask.
Of course, that's not the case all the time, but in many relationships in our time that's how it goes.
What this means is that the proposal itself–the getting down on one knee or planning a special evening–has become more of a symbolic ritual. It's an act that marks the occasion!
I think proposals are so special because it gives you the opportunity to celebrate the beginning of planning your wedding or commitment ceremony with each other.
It's a huge step in the relationship and deserves its own moment.
The proposal also gives you two the chance to make the announcement to people and say "Hey everyone! It's official!" You can announce it on social media, you can text all your friends and family members, and if you got a proposal photographer, you can share photos of the experience!
On top of all of that, it's a great way to be romantic with your partner, and show him or her that you are excited to start this next chapter in your relationship!
So with that in mind, let's get down to some specifics!
Who pops the question?
In straight relationships there is a traditional cultural standard of the man asking the woman. Even though this stems from some sketchy patriarchal history, it's still the standard and what happens in most relationships.
But when it's not a hetero relationship, who proposes to whom?
From my experience this depends entirely on the couple!
Some couples have a direct conversation about who is going to ask first! In other couples, there is one partner who is just more anxious to ask, so it ends up being them.
Still other couples choose an occasion and create a special experience where they can ask each other (aka "The Double Proposal").
Every couple is a bit different, so it's important to consider your own relationship and you and your partner's preferences.
Double Proposals
You've probably heard of double proposals before. This is common when both partners want to propose to each other in LGBTQ+ relationships.
If you want to plan a double proposal, the easiest way to do this typically to plan the special occasion together.
What's great about this unconventional option is that you can choose to make the experience anything you want it to be! You can make a special night out with drinks and dancing, or go on an epic trip or adventure together. The options are endless!
Single-Double Proposals
Okay, okay… so I made that term up!
But it needs to be a thing. I've spoken to a number of individuals who want to know how they can pop the question first, but still give their partner the chance to propose as well!
One thing that you can do for this is to propose to your partner, and once they say yes, you can let them know that it's their turn to ask you now. Perhaps that would be right then and there, or it could be some time down the road, when they are ready. And once you've both asked and agreed, at that point in time, you'll be officially engaged.
This is actually what Neil Patrick Harris and David Burtka did. In 2007, David Burtka proposed first to Neil Patrick Harris, and a year later Neil Patrick Harris popped the question in return!
Update: After getting several requests about where to find this sign, I wanted to include a link to it here. Note that the flowers and easel were separate but similar ones can be found here and here.
What should I do about the rings?
Similar to who asks the big question, what gay and lesbian couples decide to do about their engagement rings can vary quite a bit by couple.
Some couples pick out their rings together, and this could be before or after the proposal.
With other couples, the person proposing picks out a ring for the proposal and will choose their own sometime later on. You might even choose to use an heirloom ring and redesign it. Or you might choose to forgo rings altogether and choose an alternative proposal gift. This could be engagement earrings, watches, or a necklace.
You might choose something not jewelry-related at all. You could propose with an experience, if you're the type of couple that values experiences over things. Maybe you propose with an epic trip, adventure helicopter excursion, etc. Another idea is to take a trip to the tattoo parlor and choose tattooed rings instead of jewelry!
The bottom line is this–you should choose something that represents you as individuals and as a couple, whatever that means to you!
Check out this post for affordable engagement ring ideas!
Should I ask my partner's parents?
Another common question that gay and lesbian partners have is whether they should follow the tradition of asking for their partner's parents' permission before proposing.
Most couples essentially view this issue in one of two ways.
First, some see this tradition as something that comes from the time when women were considered to be under the control of the men in their lives, and were passed from father to future husband accordingly. There are people, especially some women, that understandably view this tradition very negatively and would never want their partner to ask for their parents' permission to marry. It's important to know if your partner falls in this category!
On the other hand, there are some people that want to approach their partner's parents, not so much to necessarily seek permission, but to respectfully let them know of their intention or ask for their support. If you have a good relationship with your partner's parents, this could be a way to have a conversation about how you're excited to become a family together.
Obviously, if you or your partner's relationship with their parents isn't a good one, or if their parents aren't supportive of their sexual orientation or the relationship in general, taking this step could backfire and probably isn't a great idea! But if you do have a good relationship, it's something to consider if you think your partner would want this.
Finally, another idea would be to go to a long time friend or a few friends of your partner to ask for their support in the proposal, as a unique twist on this tradition instead of asking the parents.
What if you want to propose but same sex marriage isn't legal where you live?
Unfortunately there are still a lot of countries where same sex marriage isn't permitted. If this applies to you, but you're in a committed relationship with your partner, you may decide that you still want to propose.
Perhaps you're considering moving to another country down the road where it is legal, or perhaps you feel the laws may change at some point in the future where you live. Or maybe you just want to show your commitment to one another!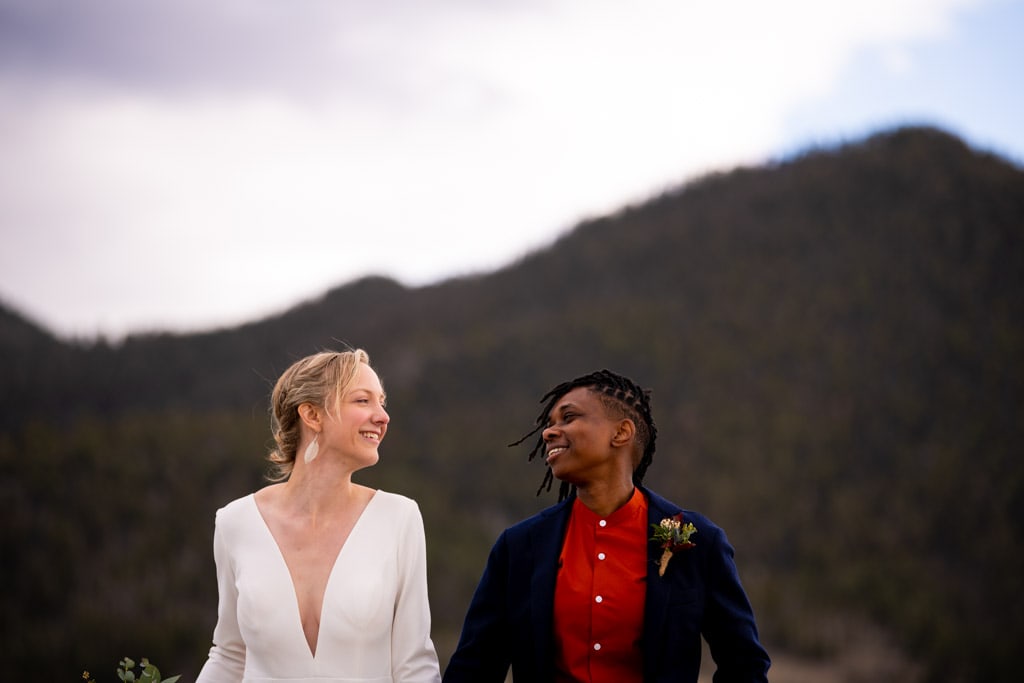 Some people are unsure if they can propose if they can't get married right away…but you absolutely can if you want to! Long engagements (sometimes very, very long engagements…ranging from a few years to decades long) are actually fairly common among both straight and gay couples.
In fact I'd say it's even more romantic to propose to your partner in cases like this. Essentially you're telling him or her that even though society says you shouldn't be together, you're choosing them for life no matter what.
And if you don't want to wait until you can legally get married, consider a commitment ceremony instead!
Lesbian Proposal Idea & Inspiration Story
V & R's story starts when they met at work in a hospital. They were very quickly attracted to each other, even though V wasn't out publicly at the time they met. After dating for a couple of years, V knew she wanted to propose in a special way.
They had a trip to Colorado coming up for a friend's wedding, and that's when V reached out to me. We talked about a few options and knowing that R loves nature, the outdoors, and hiking, we planned a brunch picnic at a local mountain park with lots of hiking trails.
I showed up early and set up their picnic, ready for V to pop the question when they arrived. Afterwards, they drank mimosas, and we captured some photos to document the occasion. And then they spent the rest of the morning hiking around and enjoying the awesome views around Denver, Colorado!
Gay Proposal Idea & Inspiration Story
G & S are a fun loving couple from New Orleans, not far from my hometown of Lafayette, Louisiana.
They often take trips together and like to visit the botanic gardens everywhere they go. When G first approached me about proposing to S, he was hoping to propose to his boyfriend on their trip to Colorado at the Denver Botanic Gardens. Unfortunately due to COVID, we had to come up with an alternative plan.
G decided to instead plan a short hike near Boulder, Colorado with his family and with S. Because S thought that the session was going to be a family and senior photo session for G's youngest brother graduating high school, he didn't suspect a thing! He was really surprised when G proposed!
They shared champagne together and celebrated before hiking back to the trailhead.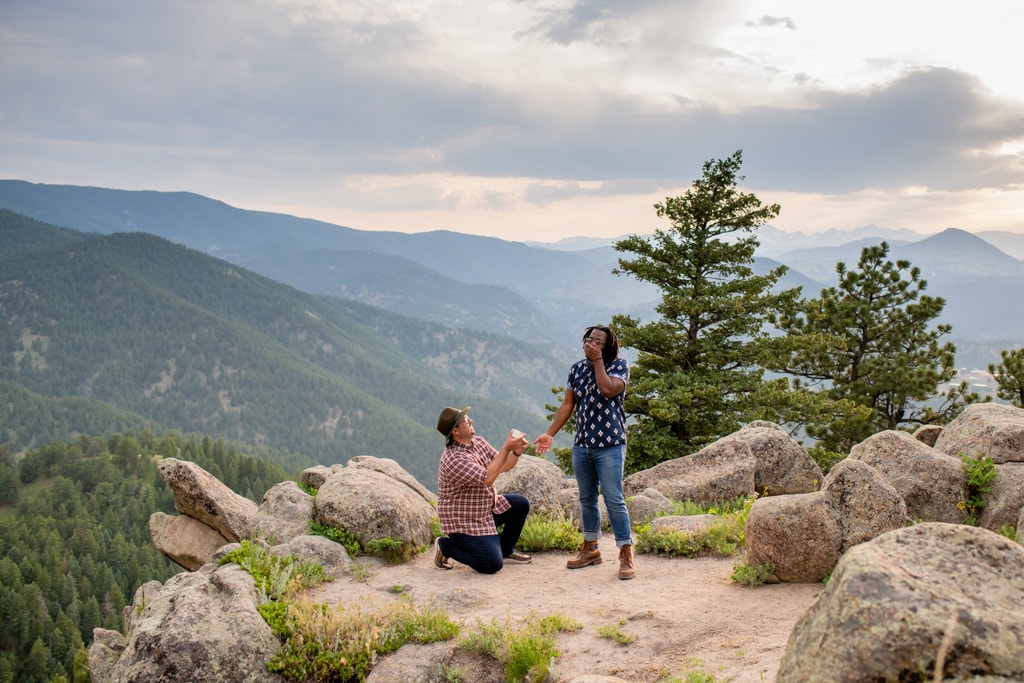 More stories, inspiration, and ideas
If you're looking for some specific ideas on ways to propose, check out this post with lots of unique proposal ideas to get you inspired!
Or if you want more stories and inspiration on some real life LGBTQ proposals, I recommend checking out this article from Brides!
Are you planning a Colorado marriage proposal?
I'm more than just a photographer. Helping you co-create an epic proposal experience is what I do best!
Or check out some of my other planning resources!
Hi I'm Kim, a Denver, Colorado based photographer specializing in epic proposal photography in Colorado and worldwide! Photographing couples on such a special day is a true honor for me. But I've made it my mission to take it one step further than that. When you work with me, you're getting more than just a photographer. I'm here to help you with all of the planning resources you need to plan the most amazing proposal ever! That includes everything from assistance with location planning, proposal ideas and logistics, plus lots more free resources. So you can forget the work, and focus on having fun!
This post contains affiliate links. While I may receive a small amount through affiliate links, it is always at no cost to you and all opinions are entirely my own.