26 EPIC Mountain Elopement Locations, Mountain Elopement Packages, and More Info! (2023 UPDATE)
Are you planning a mountain elopement? This post includes some of the best mountain elopement locations in the United States. Plus, mountain elopement packages and more information on how to plan a mountain elopement!
Updated: May 9, 2023
What is a mountain elopement?
A form of adventure elopement, a mountain elopement is a small wedding ceremony for couples who want to say their vows to each other surrounded by nature's breathtaking peaks. Planning a mountain elopement gives adventurous couples the chance to celebrate their commitment to each other in a truly unique way.
Best Mountain Elopement Locations in the United States
Colorado Mountain Elopement Locations
San Juan Mountains
The San Juan Mountains are some of the most beautiful mountains in the state of Colorado, and certainly some of the least crowded. If you're looking for a true adventure for your Colorado mountain elopement, this is definitely an area to consider.
You can also check out this Telluride Elopement Guide for locations like the one pictured below!
Breckenridge
Breckenridge is a beautiful mountain town just a couple hours west of Denver, Colorado. This area is a great place to elope because you have access to beautiful mountain views but there are tons of fun restaurants and shopping areas to keep you and any guests entertained. Learn more about planning an elopement in Breckenridge!
Maroon Bells
Maroon Bells is considered to be one of the most photographed places in Colorado, and for good reason! Located in the Elk Mountains near Aspen, Colorado, the Maroon Peak and the North Maroon Peak tower over the valley below, making this location incredible for your Colorado Elopement. Check out this guide to planning your elopement at Maroon Bells!
Rocky Mountain National Park
Rocky Mountain National Park is one of the most visited locations in Colorado, and has a number of beautiful sites to have your elopement or microwedding. Some popular spots include Sprague Lake, Bear Lake, 3M Curve, Lily Lake, and Upper Beaver Meadows, along with several others.
It's worth noting that you can only have your ceremony and say your vows at the 13 sites designated for weddings. However, after your ceremony, you can take pictures at any other location in the park, which leaves plenty of opportunities to explore all that Rocky Mountain National Park has to offer! The nearby town of Estes Park also has a lot of great options!
Washington Mountain Elopement Locations
Mount Rainier National Park
One of the most visited national parks, Mount Rainier is an iconic location in the Pacific Northwest. Mount Rainier is the tallest peak in Washington, at 14,110 feet, and is also an active volcano which makes it a great backdrop for your elopement!
North Cascades National Park
The North Cascades National Park is a wilderness area in northwest Washington state is known for its jagged peaks, glaciers, meadows, and other beautiful scenery. In fact this park has more glaciers than any other U.S. park outside of Alaska!
Snoqualmie Pass
Snoqualmie Pass is a mountain pass through the Cascade mountain range that summits at 3,015 feet. While not terribly high in elevation, the views are spectacular. It's also very close to Seattle so you can still celebrate your elopement at a fantastic restaurant or bar in the city.
California Mountain Elopement Locations
Yosemite National Park
Yosemite is known for its stunning and iconic mountain vistas, and this makes it a very popular spot for elopements! There is great hiking and climbing in the park, and no shortage of beautiful scenery like waterfalls and giant sequoia trees.
Lake Tahoe
Lake Tahoe is a very large lake that covers portions of both California and Nevada. It is a beautiful blue-green color and has areas with stunning mountain views. In the summertime you can partake in activities like stand up paddle boarding and hiking, and in the wintertime you can enjoy the winter sports like skiing and snowboarding.
Mammoth Lakes
Mammoth Lakes is an area just south of Yosemite National Park. There are lots of outdoor recreation areas with beautiful views of mountains with jagged peaks.
Want a private California elopement location with epic views? Check out this guide to California Airbnb Wedding and Elopement venues!
Oregon Mountain Elopement Locations
Mt. Hood National Forest
Located just outside of Portland, Mt. Hood National Forest is one of the most visited National Forests in the U.S. There are over 170 recreation sites and tons of trails to explore. And of course Mt. Hood itself towers over the horizon in the background.
Crater Lake National Park
Crater Lake National Park is a stunning location featuring a lake in a collapsed volcano! The lake is a stunning blue color due to the pristine water that comes from rain and snow, and it's also the deepest lake in the United States.
Smith Rock State Park
Smith Rock State Park is located in central Oregon in what is considered the High Desert region. This means that it can get very hot in the summer compared to other mountain elopement locations! Smith Rock State Park is also considered the birthplace of American sport climbing, so it would be a great place for a rock climbing elopement.
Wyoming Mountain Elopement Locations
Grand Teton National Park
Located just south of Yellowstone National Park, the Grand Tetons are one of Wyoming's most stunning mountain locations. The mountain range offers iconic views and plenty of beautiful spots for an elopement ceremony! There are fun activities to do in every season.
Medicine Bow National Forest
Medicine Bow National Forest extends from the very northern part of Colorado up through the central part of Wyoming. The scenery is diverse and offers some less trafficked areas compared to the larger Wyoming attractions of Yellowstone and the Grand Tetons.
Yellowstone National Park
Yellowstone is definitely one of the country's most unique National Parks. Some of its unique features include geysers like Old Faithful and volcanic calderas. There are also tons of opportunities to view wildlife.
Montana Mountain Elopement Locations
Glacier National Park
Adjacent to the Canadian border, Glacier National Park is Montana's most popular place to visit. It has beautiful lakes surrounded by mountains, and there are over 700 miles of hiking and biking trails. If hiking doesn't suit you, there are also beautiful mountain passes you can drive like the 50 mile Going-to-the-Sun road over Logan Pass.
Bozeman, Montana
Bozeman is a town in southern Montana in the Rocky Mountains. Although the winters are very harsh here, the summers offer a lot of great activities and mountain views.
Flathead National Forest
Flathead National Forest is just south of Glacier National Park and offers similarly beautiful views, but with far fewer crowds. There are plenty of opportunities for wildlife viewing, hiking, fishing, or any of the other fun activities that the Rocky Mountains have to offer.
Other Mountain Elopement Locations
North Georgia
The North Georgia mountains may not be the first place you think of to elope, but its Blue Ridge mountain views will not disappoint. There are several nearby mountain towns to visit, and you can also check out the many wineries, spas, and waterfalls throughout the region.
Great Smoky Mountains National Park
Great Smoky Mountains National Park is America's most visited National Park, due to its beautiful mountain views and all of the fun outdoor activities available. It's also North Carolina's only national park! The mountain range reaches around 7,000 feet of elevation and is known for its smoky haze. Much of the park is open to outdoor weddings with a maximum of 20 people, although there are some designated sites for larger weddings. Check out this post for more information on an elopement in Great Smoky Mountains National Park.
Asheville, NC
Asheville is a very popular outdoor elopement and wedding location on the east coast due to it's beautiful scenery and southern charm. There are lots of public lands in the area such as national forests and state parks to consider for your mountain elopement.
Adirondack Mountains
The Adirondack Mountains are a beautiful area to retreat to in the northeast portion of the United States. The Adirondack Mountains are the highest peaks in New York State. The area comprises a blend of public and private lands, and there are several great locations to choose from for your mountain elopement.
Salt Lake City, Utah
Many people don't think of Salt Lake City when you are talking about mountains, but there are actually many beautiful mountain locations near Salt Lake City. It can be much less crowded than many national parks. The fall is particularly beautiful with the changing leaves. While you're there, definitely make a visit to the Bonneville Salt Flats, a unique spot located about two hours west of Salt Lake City.
Napali Coast
If you're having trouble deciding between the mountains and the beach for your elopement, then Hawaii should definitely be a place you consider eloping. Look no further than the Napali Coast, on the northwest corner of the island of Kauaii. Known for it's towering sea cliffs, this location is a popular place to visit–and to elope!
Palmer, Alaska
Palmer, Alaska is just one of many amazing mountain elopement locations in Alaska. There are mountains everywhere you turn, and it is definitely one of the more secluded and quiet locations on this list. If you're looking for privacy and stunning views for your mountain elopement, consider Alaska!
Alaska has SO many options when it comes to elopements! Check out this guide to planning your Alaska elopement, including the best places to elope in Alaska!
Mountain Elopement Packages
I'm more than just a photographer…I'm here to help you have the best day ever!
Based on my experience, especially with elopements and microweddings, couples need more than just a photographer.
Unlike with a traditional wedding, you may not have a venue coordinator or wedding planner helping you think through logistics, locations, or all the little details that really add up!
I don't just show up and take photos on your day. I'll be here for you every step of the way.
I know you have a lot of choices when it comes to picking a photographer. What makes me different is that my number one goal is to be here for YOU–not just as your elopement photographer…but as your elopement partner to help you create the epic day your love story deserves!
All of my Mountain Elopement Packages include:
Elopement & Micro wedding VIP Planning Guide exclusively for Wild and Found couples
Questionnaires to help you through the planning process
Personalized location assistance
Local vendor recommendations
Logistics help and a custom timeline
Gear and day-of checklists customized for your day
More one-on-one planning help
Assistance with wedding permit if needed
Cost of photo permit included
An entire gallery of edited, high-resolution images great for printing, PLUS websize images ideal for posting to social media
The rights to print, share, and download all of your images
A sneak peek of 5 images with 48 hours
PLUS a 20% off discount on prints, albums, canvas art, etc. for your first order
2-Day Mountain Elopement Package
Can't decide between a "just us" celebration, or a day with friends and family? Have both!
Includes 12 hours of photo coverage, split over 2 days.
Travel throughout all of Colorado included!
$9,000
8 Hour Mountain Elopement Package
Our most popular package–for capturing memories of your entire elopement day
Includes 8 hours of photo coverage.
Travel throughout all of Colorado included!
$6,000
4 Hour Mountain Elopement Package
A great choice for simple elopements at accessible locations or for short hikes.
Includes 4 hours of photo coverage.
Travel throughout all of Colorado included!
$4,000
2 Hour Mountain Elopement Package
When something short and sweet will do!
Includes 2 hours of photo coverage.
Available only for "just us" elopements (no guests) on Mondays through Thursdays within 2 hours of Denver.
Bookable up to 2 months in advance.
$2,000
Planning your mountain elopement: What you need to know!
How to get married on a mountain
To summarize, here are the basic steps to planning a mountain elopement:
Research your options
Hire a photographer (they can help you find and choose a location!)
Choose your perfect elopement location
Invite any guests that are coming
Book any travel needed
Hire any vendors like florists, hair and makeup artists, etc.
Plan out details like activities, timelines, and ceremony choices
Obtain your marriage license
Finalize details
Enjoy your epic mountain elopement!
How to find a mountain elopement location
When looking for the mountain elopement location that will be the perfect fit for you and your partner, my number one recommendation would be to get help from a photographer!
Many people don't realize this, but most elopement photographers spend a TON of time scouring the internet, searching through Instagram hashtags, reading through wedding blogs, and physically scouting out locations.
Photographers have a personal interest in making sure their clients have the most amazing location that will truly make for epic photos! They are also able to find hidden gems that are more private and secluded than the typical tourist spots.
But if you're not planning to hire a photographer, or if you just want to get a head start on your research, these questions and tips will get you started!
Think about which season you're planning to elope, as this can determine the accessibility of certain areas. In many places, roads close in the winter and some other areas become very difficult to access.
Is privacy and seclusion important to you? While there's no guarantee of privacy on any public lands, certain areas such as National Parks will always be very crowded. If you want less people around while saying your vows, consider a less trafficked area.
Does the place I want to elope require any permits? If so, how long does it take to get them and do I have enough time for that?
Once you think through the above questions, then you can do more detailed research and narrow down the list to a state or park that most interests you!
Deciding what season to elope in the mountains
One of the factors you'll want to think about in your elopement planning process is what time of year you'd like to get married.
Summertime elopements are beautiful in the mountains, as this is finally when many places truly become accessible, and you have the most options for locations. Also, the wildflowers are blooming in the high alpine areas. Living in Colorado, the summertime is definitely my favorite season!
Fall is also a beautiful time of year, when the leaves start to change and it's not as hot in certain lower elevation areas. Although many mountain areas are still accessible, the later in the fall it gets the more risk of road closures and snow storms.
Wintertime elopements are truly beautiful, but equally unpredictable. I love snowy photo sessions, but you truly have to be prepared with backup plans for your backup plans. And finally Spring elopements, which are in truth the least popular time of year for mountain elopements. This is because there are still many winter storms but any melting snow just creates a lot of muddy conditions. Plus, many locations are still not accessible until summertime.
One final note on mountain elopements: Self solemnization!
When it comes to adventure elopements, I don't think any couple should be held back by the legal paperwork! Many couples choose to have their commitment ceremony and sign their legal paperwork on different days for any number of reasons.
But if you absolutely want to sign your legal paperwork on the day you get married, you'll need to consider the state laws where you are eloping. States have various requirements regarding officiants and/or witnesses, which means that you may need to have an officiant or witness with you.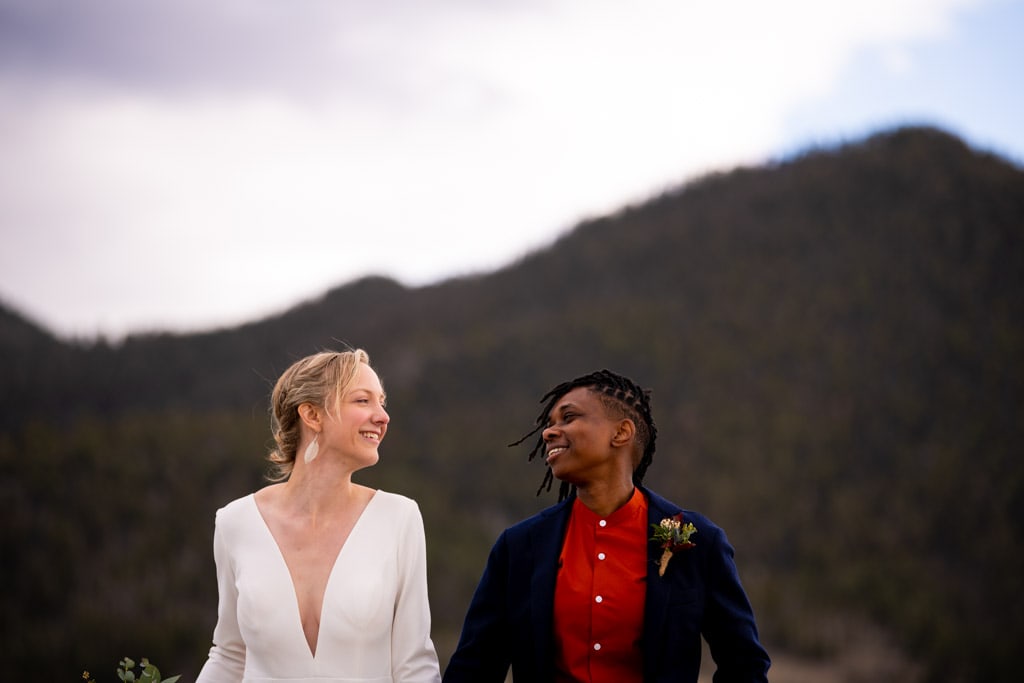 So if you're not keen on bringing extra people up to the top of the mountain with you, you may want to consider self solemnization!
Simply put, self solemnization is where the couple legally marries themselves, without the need for an officiant or a witness to be present to sign their marriage certificate.
Colorado is the only state that allows self solemnization with no restrictions or caveats, and it really is as easy as just signing and filing the marriage license. There are a few more states that having a form of self uniting marriage here, with certain caveats. More on that here!
Are you planning a mountain elopement or microwedding?
I'm more than just a photographer. Helping couples create their dream day is what I do best!
Or check out more elopement planning resources…
Hi I'm Kim, a Denver, Colorado based photographer specializing in Adventure Elopements in Colorado and worldwide! Photographing couples on the most special day of their lives is a true honor for me. But I've made it my mission to take it one step further than that. When you work with me, you're getting more than just a photographer. I'm here to help you with all of the planning resources you need to have the most amazing elopement day ever! That includes everything from assistance with location ideas, timeline planning, and lots more free resources. So you can forget the work, and focus on having fun!